COVID-19
In the interest of the health and safety of our guests as well as our employees, we follow the current measures of COVID AUTOMAT.
The town of Senec is currently located in II. degree of vigilance, it means:
Each person using the plant's in-house services must demonstrate a negative antigen test for COVID-19 not older than 24 hours or a negative RT-PCR or LAMP test for COVID-19 not older than 72 hours.
Access to the indoor areas of the operation will be allowed only to persons with covered upper airways. Please use the FFP2 respirator (this obligation does not apply to the time required to consume beverages and food).
When entering the operation, it is necessary to apply disinfectant on the hands or use disposable gloves.
Please keep a distance of at least 2 m in the rows of people; this does not apply to persons living in the same household.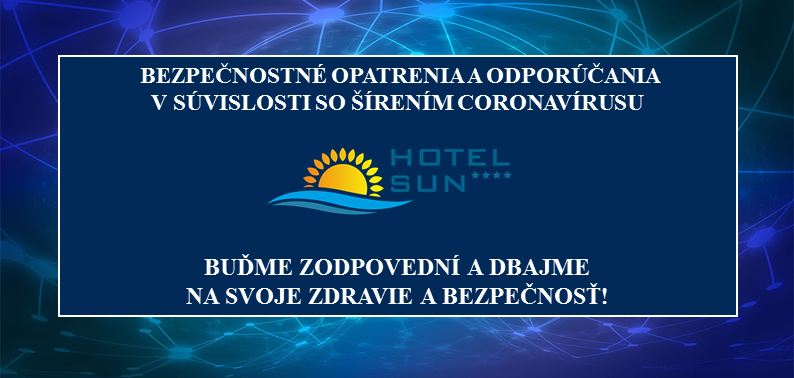 Restaurant and Lobby bar:
In the interior parts of the operation, it is necessary to keep the occupancy of one table by a maximum of 4 people, or people from one household.
Spacing between tables 2 meters.
Provision of wellness services:
Allowed subject to the condition of max. 30% capacity per 1 sector.
Pools:
Allowed subject to the condition of max. 30% of the total capacity.
Additional security measures at the hotel:
Rooms are cleaned according to 4 * standards with increased attention when disinfecting all touch surfaces.
Ozone disinfection is provided in all our premises.
Sanitary facilities are equipped with antibacterial liquid soap and paper towels.
All hotel areas are equipped with hand disinfection, please use it.
Please respect these restrictions, you protect not only yourself but also us
If you do not feel well or have symptoms of the disease, stay at home, we will move your booked stay to another date without any problems.
Use respirators when moving around the hotel.
Don't forget to use our disinfection stands.
Keep a distance from other guests min. 2 m.
Please let us know if you suspect health problems.
Additional information – who does not need to prove it if an antigen test is required:
a person who has been vaccinated with a second dose of COVID-19 mRNA vaccine and more than 14 days have passed since this event,
a person who has been vaccinated with the first dose of COVID-19 vector vaccine and more than 4 weeks have passed since this event,
a person who is more than 14 days after the 1st dose of vaccination against COVID-19 (mRNA or vector vaccine), if the first dose of vaccination was given within 180 days of overcoming COVID-19,
a person who has contracted COVID-19 in a period not more than 180 days ago,
in the case of a person under 10 years of age.
You can see the current measures for the city of Senec: http://automat.gov.sk/senec
We trust that you will take these measures with understanding. We want to provide you and your family with quality and safe services during your entire stay with us.